Dublin Fire Brigade visited us today. Colm's dad is a fireman so he brought the fire engine up to our school.
We saw lots of safety equipment which is used for car crashes, to break into buildings and to break locks.
The fire truck is red and yellow.
We got to spray the hose and wear the helmet.
The firemen tried to spray Mrs. Smith!
We took lots of pictures.
One of the firemen showed us how to use the gas mask.
He wore an air tank, a torch and a safety alarm.
They sang "Happy Birthday" to Harry.
We waved goodbye to Firefighter Kersaw and the other firemen.
When they were leaving we heard the siren.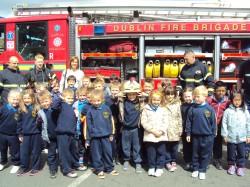 We had lots of fun with the firemen.